Looking for inspiration for dinner? Here is an original and tasty recipe that you can enjoy alone or with some friends.
---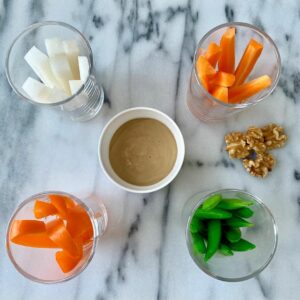 Ingredients
Vegetables of your choice
Sauce
1 tablespoon of miso
1 small piece of ginger
½ teaspoon of wasabi
1 teaspoon of tamari (fermented soybeans)
2 walnuts
2 tablespoons of tahini sauce (sesame cream)
1 bird pepper
3 tablespoons of water
Cut the vegetables into sticks. Place the ingredients for the miso sauce in a blender. Arrange the vegetables on a plate and serve them with the miso dip.
Enjoy!
---
Find other recipe ideas in CHICO SHIGETA's book
Coaching Guide – French version
---