In Japan, April 26 celebrates bathing. Associating the cleanliness of the body and the purity of the spirit, the ritual of bathing has progressively become a Japanese way of living, mainly because of its several virtues. At home, in natural hot springs (onsen) or public baths (sento), Japan has no shortage of places where it is possible to take a good hot bath. Why not take advantage of this day to bring a little bit of Japan into your bathroom by giving yourself a moment of well-being? For the occasion, discover a ritual dedicated to detox specially created by CHICO SHIGETA.
---
The detox bath ritual by CHICO SHIGETA
2 drops of lemon, 2 drops of juniper, and 1 drop of rose geranium in a little organic soap without additives, that is all you need to spend a pleasant moment of well-being and relaxation.
---
Legs massage
Why not take advantage of this moment to take care of your legs? For those who suffer from heavy or swollen legs, the bath is the perfect moment for a self-massage to improve your blood circulation.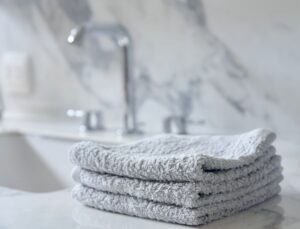 First of all, do a massage of the ankles and calves:
Start with your feet. Apply pressure with your thumbs three times in a row along the lines that start between the toes and end at the ball of the foot.
Then press with your thumb along the line that starts at the ankle, passes over the malleolus, and up to the knee. Do the same on the other side of the leg.
With your thumbs, always three times in a row, press on a point at mid-calf, on the back of the leg. You will easily identify it because it is a painful point, especially if you suffer from heavy legs.
Repeat the entire massage on the other leg, then enjoy your bath.
---
After the bath: the perfect combination for heavy legs
Relaxation does not stop when you get out of the bath. On the contrary, why not take advantage of this time to prepare a blend of essential oils?
Cypress (Cupressus sempervirens, 35 drops)
Rosemary (Rosmarinus officinalis, 20 drops)
Sage (Salvia officinalis, 10 drops)
Peppermint (Mentha piperita, 5 drops)
Mix these essential oils with 30 ml of jojoba, apricot kernel, or hazelnut vegetable oil. Apply this mixture to the legs with gentle movements and massage for 5 minutes. As you have sweated while taking your bath, the oils will penetrate easily.
Enjoy the relaxation!
---
Find other well-being tips in CHICO SHIGETA's book
Coaching Guide (french version)
---