Thanks to a healthier and more balanced diet, no more tiredness after lunch!
---
Normally, our bodies spend a lot of energy on digestion. By focusing on raw fruits and vegetables in salads, you can help your body digest better and recover its energy. As part of a detox in early spring, there is nothing like a new recipe to help you eliminate toxins and lighten your body.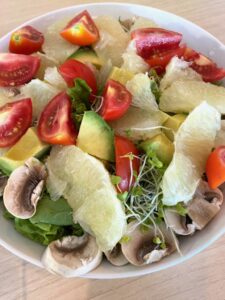 Ingredients:
5 button mushrooms
1/2 grapefruit
1/2 avocado
3 to 5 small tomatoes
100g of lettuce
100g of baby leaf salads
Broccoli sprouts
3 tablespoons of flaxseed oil / salt / pepper
Cut the mushrooms into thin slices. Peel and chop the grapefruit. Cut the avocado and tomatoes into small pieces. Add the lettuce and baby leaf salads and sprinkle with broccoli sprouts. Sprinkle with flaxseed oil and season with salt and pepper.
---
Find other recipe ideas in CHICO SHIGETA's book
Coaching Guide – French version
---