With the beginning of spring, your body wakes up little by little after long months spent in
hibernation: accumulation of too much food during the holidays, reduced physical activity,
stress, pollution… It is therefore common to feel heavy, tired and to feel the effects on your
skin (dull complexion, puffiness…).
All these symptoms are the sign of too many toxins that the body is no longer able to
eliminate. It's the ideal time to do your spring cleanse!
Have you ever thought about adapting your routine to the season? Spring is the season
of renewal, which makes it the ideal time for detoxification.

1. What are the benefits of detox  ?
The detox allows you to eliminate the toxins accumulated in your body. This process of elimination contributes in particular to:
Refining your silhouette

: when starting a detox cure, accompany it with a good

hygiene and associate it with the practice of self-massage to detoxify the body by

draining the stored water and participating in the elimination of toxins. The stomach is deflated, the

silhouette refined

!

Stabilize your weight

: detoxifying your body allows you to eliminate undigested food residues

and therefore to cleanse the body. By reintroducing quality foods while

respecting balanced meals and avoiding foods such as stimulants (coffee, tea),

refined sugars and dairy products, the body weight stabilizes or even decreases.

Boost your energy

: we recharge our bodies with energy by choosing foods rich in

vitamins and anti-oxidant substances such as citrus fruits. We take the time to breathe

deeply to feel more healthy, the body well awake and full of vitality, you are

then more relaxed and more peaceful in the evening

!

Brighten up your complexion

: your skin is also a filter allowing the elimination of toxins.

A body that is purified and cleansed from within allows for more beautiful and healthy skin.

After a week of treatment, your skin is free of

toxins and your complexion is

revitalized and radiant

!
2. Your two new In&Out detox allies.
The In step: restore your body's energy and beauty with our 

Juniper

Floral Water,

 

charged with essential oil molecules. It is ideal for

purifying and lightening the body.
Every day during one week, mix 5 caps in 1,5L of water to drink throughout the day.
Chico's tip: drink it in the bath to increase its cleansing effects.
The Out step: enhance your outer beauty with our new

 

Luminous Face

Mask

peeling

: ideal for instantly removing dead skin cells while leaving

skin ultra luminous.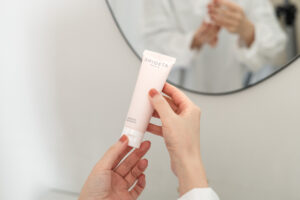 3. To go further, include our 3 weeks detox program.
Here are the 5 key steps for a successful coaching:
Step 1

: detoxify your body with plants.

Throughout the day, I purify my body with a blend of Juniper

Water (our first tip In described above).
Step 2

: practice self-massage to eliminate toxins faster!

 

In order to facilitate the elimination process, I perform a pressure massage on the stomach with the synergy of essential oils

Innocent Purity

.

 Its virtues: essentially composed of essential oils of juniper,

lemon and grapefruit, this synergy accelerates the elimination of toxins by purifying the liver and kidneys and helps to refine your body by reducing excess water stored in the belly. To facilitate the massage, combine it with the nourishing oil Body Oil Premium Seed, rich in hazelnut, macadamia and apricot oils. This unique blend also brings softness and suppleness to your skin

!
Step 3: focus on raw fruits and vegetables to boost your energy

!

I favor fruit in the morning at breakfast and I always start with a raw vegetable salad at mealtime. They contain a large number of enzymes that facilitate digestion and allow your body to conserve its energy.
Step 4:

 get the energy flowing within you

!

I learn to breathe deeply to massage my body from the inside. This way, I release my energy more easily, I feel relaxed and full of vitality.
Step 5: to go even further, detoxify your skin with our treatment oil Rose Facial Oil, perfect for the detoxifying draining massage, or our peeling Luminous Face Mask to gently remove dead cells.